* Operating hours may vary due to weather conditions and snow accumulation.
* You can use the rental gear until closing time of the ski area on the last day of the rental period.
* Those guests staying for more than two nights can change between ski/snowboard once during stay, free of charge.
* Because we have limited stocks, you have to make a reservation in advance.
Price list
Want to rent your skis/ snowboard? Please provide the following information so we can provide you the best equipment that suits your needs and ability:
Your name:
Your height:
Your weight:
Your level/ ability in skiing/ snowboarding: Complete Beginner/ Beginner/ Intermediate/ Advanced
Left Foot Forward(Regular stance)/ Right Foot Forward (Goofy stance) (for Snowboard rental only):
Renting Ski/ Snowboard equipments:
Number of Days of Rental:
Ski Sizing Chart
| | | |
| --- | --- | --- |
| SKIER HEIGHT IN FEET & INCHES | SKIER HEIGHT IN CENTIMETERS (CM) | SUGGESTED SKI LENGTHS (CM) |
| 4'4" | 132< | 115-130 |
| 4'6" | 137 | 125-140 |
| 4'8" | 142 | 130-145 |
| 4'10" | 147 | 135-150 |
| 5' | 152 | 135-155 |
| 5'2" | 158 | 145-165 |
| 5'4" | 163 | 150-170 |
| 5'6" | 168 | 155-175 |
| 5'8" | 173 | 160-180 |
| 5'10" | 178 | 165-185 |
| 6' | 183 | 170-190 |
| 6'2" | 188 | 175-195 |
| 6'4" | 193 | 180-200 |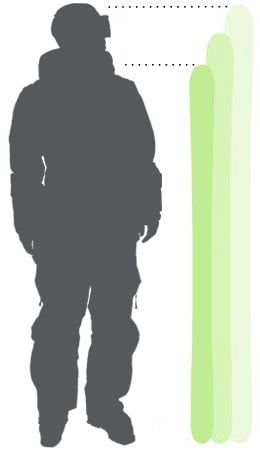 Snowboard Size Chart
RIDER HEIGHT (IN)
RIDER HEIGHT (CM)
RIDER WEIGHT (LB)
SNOWBOARD SIZE (CM)
4'10"
147
110 - 120
128 - 136
5'
152
115-130
133 - 141
5'2"
158
125-135
139 - 147
5'4"
163
135-145
144 -152
5'6"
168
140-155
149 -157
5'8"
173
150-165
154 -162
5'10"
178
160-175
159 -167
6'
183
170-185
160+
6'2"
188
180-195
160+
6'4"
193
190-205
160+